WINE TASTING
Wine Producer Georges Schiltz & Chef Stéphane
Workshop hosted in French (host speaks English)
An opportunity for all attendees to indulge in an exquisite culinary journey alongside the wine tastings. The chef will skillfully create a variety of small plates from TERRA's garden, each thoughtfully designed to complement the flavors and nuances of the wines we will be exploring together. This culinary addition will enhance our overall experience and provide an even more enjoyable and immersive event.
You will also have the opportunity to sample and savor a range of exquisite wines. Our winemaker Georges Schiltz will guide you through the wine tasting process, helping you to identify the subtle notes and aromas that make each wine so special.
This is a wonderful opportunity to relax, socialize, and enjoy the beautiful surroundings while indulging in some truly exceptional food and wine.
Come and join us for a unique and unforgettable experience of cooking and wine tasting in a beautiful garden.
🤗Welcome and Introductions: Meet and greet chef Stéphane & Wine Producer Georges Schiltz, as well as the other participants..
👀 Brief overview of the workshop, including the focus on vegetarian and vegetable-based dishes, as well as the use of the TERRA basket of the week.
🍷George will take you through the production of his wine at the FRU estate and introduce you to basic wine tasting techniques. You will enjoy an exquisite vegetarian culinary journey alongside the wine tastings cooked by Chef Stephane.
🍇You will have the possibility to order wines directly from the producer.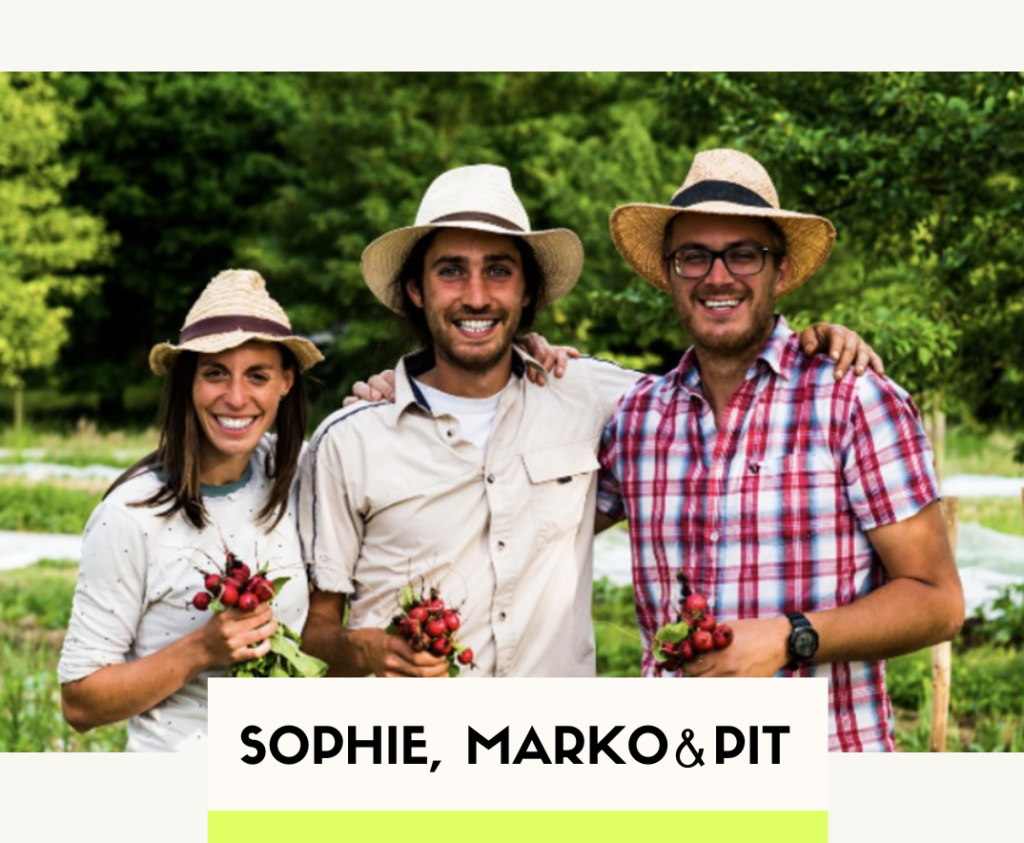 Sophie, Marko & Pit founded TERRA (Transition and Education for a Resilient and Regenerative Agriculture) in 2014. The first Community Supported Agriculture (CSA) of Luxembourg !
Their mission is to practice and promote a 100% natural and regenerative agriculture that contributes to biodiversity rather than destroying it. The producer and consumer, in this case, the TERRA team and the TERRA members know and trust each other and are on a shared adventure every season. By eliminating intermediaries such as wholesalers and supermarkets, TERRA tries to create a new social cohesion around our most basic need: feeding ourselves.
The team has grown to include Christiane as a gardener as well as apprentices who learn to become vegetable gardeners. Together they grow a wide range of vegetables for the 230 members of their CSA. To become a member and receive your weekly share of the harvest, check out terra-coop.lu.
You will be amazed by the beauty of the TERRA garden that lies in a traditional orchard just a few minutes outside the city center. TERRA will give you the opportunity to dive into permaculture, seasonal cooking and regenerative gardening in an independent and authentic setting (volunteering opportunities available).
📷 pictures by Michèle Conrad Betz
Rue Eicherfeld L-1462 Luxembourg | Follow road sign 'TERRA S.C.' when you reach Eicherfeld
Bus 4 stop Weimerskirch, Laval's Park | Bus 10 stop Eich, Eecher Plaz | Very steep 10 min. walk up through the woods (caution: slippery on wet days!)
Workshop outside, be sure to be dressed to be comfortable to be in a garden at dusk
2H00
Host speaks English, Luxembourgish and French
15 years old minimum